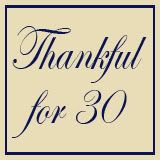 I'm bringing back Thankful for 30 this year. You can read all about it here.
My MacBook is still at "the spa," but I'll add a Mr. Linky as soon as I can for those who want to participate. (blogging from my iPhone has challenges.)
ETA: My MacBook is home! I feel like I'm back in touch with the world at large again, although I'm still trying to work out the kinks that sprouted from replacing the hard drive. Thanks for your patience. 🙂
You're welcome to sign up with the Mr. Linky widget if you're taking part in this year's Thankful for 30. Feel free to grab the little graphic, too.

1. Sunny Fall days and more in the forecast.
2. Finding the stash of checks after I ran out.
3. Bringing home my MacBook with its shiny new hard drive.