A productive weekend at the sewing machine, for sure! Two finished outfits (OK, mostly finished) and I'm happy with both.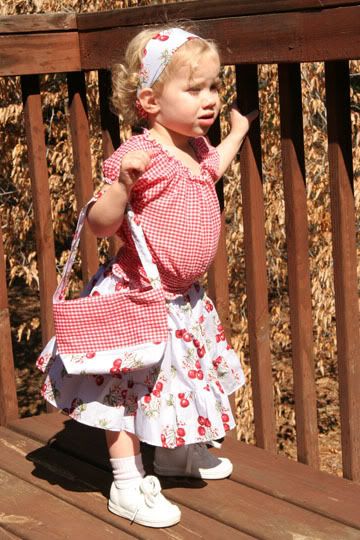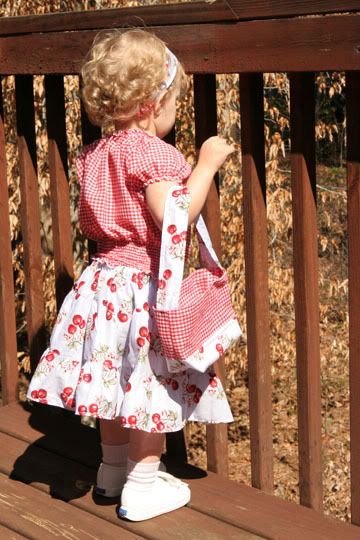 I'm so pleased with how this turned out. When I bought the cherries fabric, I wasn't sure what I was going to do with it (bad, I know). I ended up just doing a simple, three-tiered twirl skirt. The peasant top is from the latest Ottobre; I added a seam allowance plus a lot of length because I made the same top a couple of weeks ago and it was too short for my taste. The fabric is all from Joann's; I think it cost maybe $6 for all of it. I think it will be the perfect set to usher in the spring weather we're getting.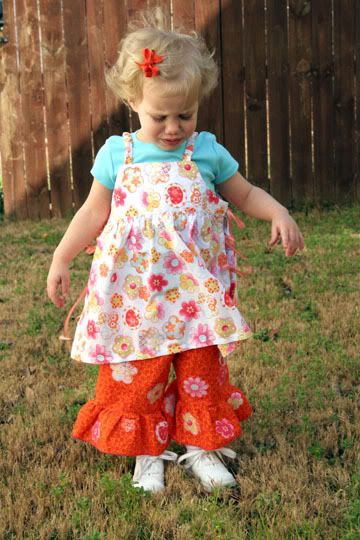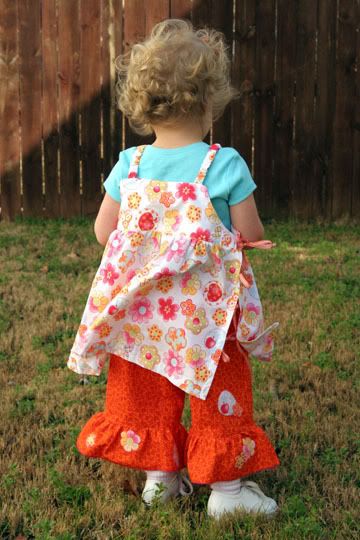 My new favorite outfit! I really love this set. (I do need a different tee for underneath the pinnie; I'm not too thrilled with the color and it's too small.) The fabric for the pinnie came from Fabric Hound; I bought the pants fabric (Michael Miller) at my local quilt shop. Both pieces are from the spring '06 Ottobre. I think the pinnie is a little wide; I probably could have skipped adding the seam allowance.
No outfit I sew is complete without relating my adventure. I woke up early Sunday morning to get in some work before everyone woke up. I'd cut out the pieces for the pinnie and pants the night before (I took the advice of Katherine at the quilt shop and listened to the Material Mama podcast while I worked. Good stuff!) so I thought I was ready to go. Wrong. The ribbon I thought I had for the top? Didn't actually exist. The only ribbon I had was twice as wide as I needed. Thank goodness for stores that are open 24 hours, seven days a week, and have a craft department. I ended up using a different color than planned but I like how it looks.