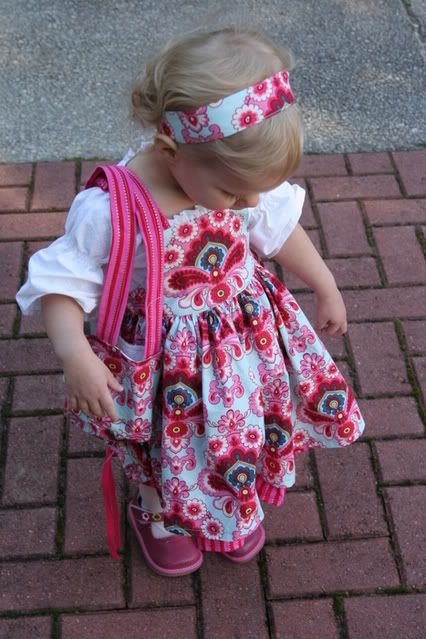 I took DD out to the Antebellum Plantation at Stone Mountain Park yesterday to shoot the pictures for her Valentines. I've been meaning to do this for about a month now and paid for it dearly with the weather: cold, cold and cold. Did I mention it was cold? I think it was about 27 degrees when I took these shots. Now, understand that we've had unseasonably warm weather here for the past two months. It's been in the 60s until very recently. But I choose to wait until it's FREEZING and take my toddler outside for a photo shoot.
So the photos are not exactly what I'd hoped for and I really have no one to blame by myself. Baby Girl was quite the champ, trying to smile even though her teeth were chattering.
About the outfit: The peasant top is a pattern from YouCanMakeThis.com. I made it before I bought my serger and I keep meaning to redo it and never have (likely never will). The purse is my own design and if I ever get the revisions to my ebook finished, the pattern may actually be available for someon, somewhere to buy. I made the headband myself, too, and have since found an online tutorial that is much, much easier than how I did it.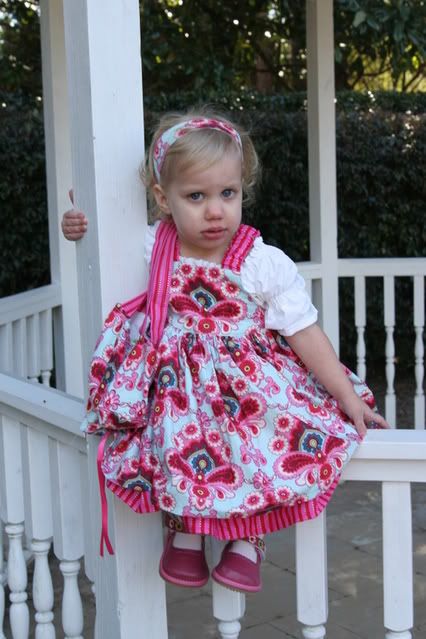 The jumper features a gorgeous Amy Butler fabric from the Belle line. It is just stunning in person. The bodice is based on another YCMT pattern but the rest is all mine. The straps are elasticized and the overskirt has gathers near the side seams and ribbon embellishments. I love the peek-a-boo effect with the underskirt.
Now the backstory on this outfit is that I was sewing it over the holidays and *squeamish reader alert* sewed through my own finger while working on it. Understand that this has pretty much been a lifelong fear of mine and I have to admit that actually doing it hurts even more than I imagined. I spent two hours on New Year's Eve in the ER — much of it watching an Ugly Betty marathon on ABC Family — and promptly returned to my sewing after dinner that night. Looking at the finished outfit, I have to admit that it was worth it.