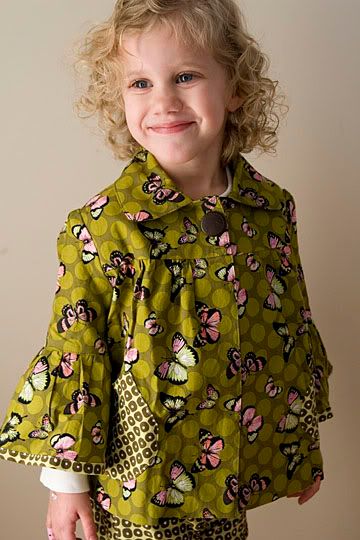 I decided to take part in the Boutique Felony launch on Ebay this week. While the name is a little tongue-in-cheek, the topic is really anything but lighthearted. I'm sure everyone has been reading about CPSIA and the requirements placed on makers of children's goods.
As the Feb. 10 deadline approaches, it's looking more and more likely that the custom children's items I've bought (and sold) will start disappearing from sites like Ebay, Etsy and Hyenacart. I know that I won't be able to meet the requirements for lead testing and expect to no longer be sewing and selling children's clothing if things don't change.
My biggest regret involves my web site. I shipped this week what likely will be my last tutu orders. Four years of playing with tulle and making little girls' dreams come to life is ending and that makes me a bit sad.
But I can't stay sad for long when I look at my daughter wearing the outfit I've listed on Ebay. It's made with Paula Prass' Flights of Fancy fabrics (Michael Miller) and it really does make me smile. This is the outfit Paula asked me to sew for her booth in Houston, at the International Quilt Market. A photograph of it was included in her brochure promoting the fabric line, and there was a beautiful modeled picture of it up in her booth. I'm optimistic that it will find a fabulous new home where it will be worn and loved.