Mary Abreu has been crafting most of her life, although she admits that sticking to one or two is a challenge (hence the "ADD crafter" moniker). She is an award-winning journalist, most recently adding a Bronze award from the Parenting Publications of America for a story published in January 2007. During her nearly two decades in journalism, she has worked as an editor, writer and art director at newspapers and magazines throughout the Southeast United States. After a brief stint as editorial director of one of the oldest regional parenting publications in the country, she has returned to freelance writing and editing — although running a household and parenting three kids (23, 21 and 10) are her first priority.
Mary and her Honey celebrated their 17th wedding anniversary this summer, although she's not sure if he's as willing to mark the occasion at Dragon*Con as she is. They also are proud parents of two furbabies, both named for produce (Avacado and Olive). Oddly enough, none of their other children are name for grocery-store items.
When she's not wrangling her babies or ignoring housework, Mary can be found playing with beads, fabric, paper, thread, clay, glue and a variety of other crafty goods. If she's lucky, she'll actually finish a project before she gets bored or frustrated with that particular craft. If not? Well, there's always the closet under the stairs, where UFOs (unfinished objects) go to die.
Want to learn more about Mary? The following questions were submitted as part of the 300th post giveaway contest on the blog.
What was the first crafty thing you did and how did it turn out? — Sara
What is the first thing ever that you remember crafting? — Tracey
When I was maybe eight years old, I checked out a book from the library about sewing pillows, with instructions for creating different kinds of pillows. I promptly raided my mother's sewing supplies and sewed — by hand — one of the ugliest pillows ever made.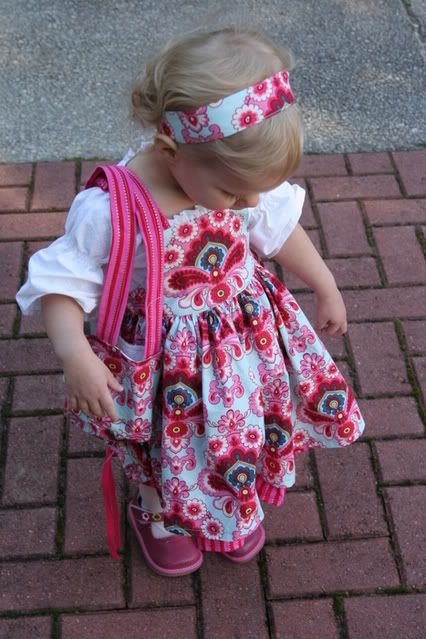 What is your all-time favorite thing that you've ever sewn? — Misty
What's your favorite thing you've ever made? — Kristin
What was the most *satisfying* project you've ever accomplished? You can define that in any way. Did you love the result? The process? Or was is just such a PITA that it was great to have it over and done? — JeanneC
Of what crafty creation are you the most proud? — Shannon
I think my favorite, most satisfying creation, the one of which I'm most proud is a jumper I made for my daughter. I used the most gorgeous Amy Butler fabric, accented with the perfect pink fabric (Lakehouse, I think). This one is in Miss L's memory box, for keeps.
As much as I love it, the story behind it is just as significant. About halfway through the process, I sewed through my left index finger. On New Year's Eve, no less. Surprisingly enough, I didn't get any blood on the dress. And I went right back to work on it after getting back from the ER (no stitches but a hefty dose of antibiotics to stave off any infection since the needle came really close to the bone in the tip of my finger).
Who inspires you the most to create? Which sites, blogs, books, designers, etc. really get you excited and what about them do you like the best? — Dawn
There are so many! Lisa Tutman-Oglesby and Jennifer Paganelli consistently wow me with the variety and types of projects that they do. My friend Christi, an ex-pat living in New Zealand (with two of the cutest little Kiwis ever!), is such an incredibly talented scrapbooker; I'm just in awe of her. Dawn's sewing is just remarkable; she's always creating the most amazing things for her daughter (and her sewing room is TDF!) Amy at the Creative Mom Podcast is just tremendous. Not only does she "make art," but she actively works to inspire other people to be creative, too. Honestly, the reason my blog roll is so huge is because I find so much inspiration on those blogs! And I love finding new ones to read (although it could be argued that my Bloglines is getting out of control …)
How do you move past the fear of trying a new project that you aren't sure how to do or if you even have the ability of doing. I seem to freeze up with fear when I am starting new projects and then they never get finished. So, what are your tips of getting past this? — Natalie
The way I look at it, the worst thing that can happen is that I end up throwing it out. So I grab something — fabric, paper, whatever — I can afford to screw up and just dive in. Mistakes can be a good thing; I've learned a lot from making them. And one of the great things about crafting is that no one ever has to know what you messed up!
How long have you been sewing/crafting? — Samantha
About 30 years, maybe longer if you count things I made at camp and/or school.
What is your favorite part of creating children's clothing? — Mandy
Nearly everything I sew, I sew for my own daughter first. And the look on her face when she sees that new dress or outfit is its own reward.
At what age do you plan on teaching your daughter to sew? — Dianna
Believe it or not, I've already bought her a sewing machine of her own. (Hey, it was a Janome on clearance for $25 — ya can't pass up a bargain like that.) She'll be four in October and may be ready for some beginning hand-sewing stuff in the next year or so. I'll really just follow her lead.
How long have you been doing serious sewing projects, and what inspired you to keep taking it to the next level? Also what fabric patterns are your favorites to work with (bright and funky, more muted colors, big prints, etc.)? — Amy
I've probably been making a conscious effort to improve my sewing skills for the past three years (likely a little longer, actually). I have some wonderful friends who were so sweet to admire the work I shared with them and that really helped get me excited about sewing. Two women in particular — Katie and Angela — were so incredibly sweet and supportive, giving me tips and talking me through some of the projects I was working on.
As far as fabrics go, I really love a variety of prints and colors. It's more about what I can envision doing with the fabric. I think I do tend to be drawn to certain colors, namely blues and pinks.
Does your mood determine what colors you sew/craft with? — Heather
Does the weather sway your choice of colors that you work with? — Karen aka Grammy Mac
You know, I really hadn't considered this before but I probably am influenced somewhat by my mood and the season.
What has been the hardest thing for you to master…craft wise? And what do you do or have you done to work through that? — Sadira
Patience. I think it's an intrinsic part of many crafts, and yet I am sorely lacking. I try to pick projects that I can finish quickly, or that can be done in stages that allow me to work on other projects in between.
Is there any type craft that inspires you yet intimidates you to try? — Stephanie
Most definitely! I will be working on a smocking project this year as part of a challenge and I'm procrastinating like nobody's business. I have a friend who is ready and willing to pleat whatever I want, and I still can't make myself get going on it. All the stitches and things like "reverse smocking" are freaking me out.
What do you do when you get frustrated (keep on working to get through it or put it away for awhile after screaming)? — Ann
Both, actually. It depends on the time of day. If it's after 9 p.m., it's time to put it down for the night because I have a tendency to really mess things up when it's later and I'm frustrated. When I wake up in the morning, I can usually visualize what I need to do to fix it. During the day, I'll put it down and go fix a snack or check my email, maybe read some blogs — anything to get it out of my hands and let it work out in my head for a bit.
If you could only choose one color (I know, this is a tough one) what would it be? If you have to, you can have a back up LOL. — Krista
Blue. I love the color blue. It's so peaceful and calming; it just makes me happy.
I want to know what, besides sewing, is your favorite all-time craft! — Jamie
Scrapbooking. Love it, don't do it enough.
What is the one craft that you think everyone should try? — Lorissa
Scrapbooking. (I bet you thought I was going to say "sewing!") I have so many pictures from my childhood, as well as pictures from my parents' childhoods, and they are wonderful to have. But I don't have the stories behind them. Many times, I don't have the date the picture was taken or even the names of who is in the pictures. All that family history that's just lost. I don't think I need to scrapbook every picture, but I want my kids to be able to have more than just a book full of pictures — and I think it's something to which everyone can relate. (And you don't have to have kids to scrapbook your photos; I think of all those lonely photos at the flea market, with their forgotten stories, and it makes me a little sad.)
Have you ever had one project in particular that you just couldn't do or it frustrated you so much you had to leave it at the stage it was in? — Tiffany
Ummmmmmm …. yeah. LOL! I have quite a few things shoved into a back corner of my craft closet. Some things I just can't bear to throw out. And some I keep to remind me that I can learn something from those mistakes.
What is the craft that you absolutely despise and will never ever do again? — Shannon
Samantha is going to hate me but I don't think I'll ever crochet again. I just can't get it and I don't have the patience to keep trying until I do.
I'm curious as to what part of sewing you like the LEAST? — Brenda
Pinning pieces together. Inevitably, I poke myself and that's no fun.
How many clothing pieces do you think you have sewn? Better yet, how many have you given as gifts versus sold? — Christi
Maybe 200, most of it for me or the girl. I've probably given an equal number of gifts as what I've sold.
What is your favorite ice cream flavor or dessert? ( I know not at all a crafty question ) — Jamie
I loooooooove creme brulee. If I go out to dinner with my husband, and it's on the dessert menu, he knows I'm ordering it.
What is your favorite stitch to use, machine or by hand, when sewing? — Jamie
I totally :heart: the blanket stitch. Functional AND pretty.
Where do you get most of your inspiration from? — AJ
Inspiration is everywhere; you just have to free yourself to see it. Right now, I'm watching Ace of Cakes on the Food Network and it makes me want to go play with fondant! And paint! I love listening to music when I'm drawing or painting or even scrapbooking because it's just so elemental and helps me get where I need to be.
I love to hear a person's crafting history – how did you get started? are you self-taught, taught by mom and grandma, etc? — Jessi
Who or what inspired you to start sewing? What age did you discover you had a talent for sewing/crafting? — Carolyn
I grew up with a crafty mom. She sewed, she painted, she drew, she quilted, decorated cakes, fabric paint, knitted, crocheted. You name it; she probably did it. I think it really gave me a great role model for creativity. Of course, there was also this standard to live up to, because my mom could master anything the very first time she tried it.
Sewing was my mom's most enduring craft and I know that's why I wanted to sew. I remember getting a Holly Hobbie sewing machine for Christmas or my birthday one year and how excited I was — right up until I found out it only did a chain stitch. Nothing would actually stay sewn together!
I'd like to know which of your (many) crafts is your most challenging, and which is the most fun for you. — Katie
I love painting but it's really challenging for me because I'm so impatient. I want to hurry up and finish, and that's not always a good thing. And they're all fun — that's why I keep doing them!
What time of day do you do your best work? — Wendy
Mornings, which anyone who knows me will find terribly amusing because I AM NOT A MORNING PERSON.
You seem to get so much done. Is there stuff that you never get finished? — Kuky
Yes. We used to call it "laundry" but now we call it "domestic art."
Paint us a picture of what a typical dinner is like on a weeknight at your house. Is it perfect, too?! — Emily
Chaos! Sheer chaos! LOL! No, it's not that bad. We try to sit down to dinner as a family every night but it's tough with a husband who works late and a preschooler who needs to be in bed around 7. Dinners are pretty casual around here, and there's always a lot of laughter.
Do you work and if so, how do you balance your creativity with all the responsiblity/caregiving that goes with raising a family, and being a good wife. — Jenn
How do you as a SAHM/WAHM ,make the time needed for both family and craft? — Hope
I left the workforce in 2005, opting not to return after my maternity leave ended. Since then, I've primarily worked as a freelance journalist, although I did work part-time outside the home for about nine months. I still do some writing but also teach apparel sewing classes at a local quilt shop and sew for others (in addition to making tutus).
I can make my own hours, for the most part, and that really helps with the scheduling. (Plus, I really don't work that much; I think it just looks that way on the Internet!) During the school year, the days the kids are at school are my major work days. I try to keep my workload to a level that I can put my family first. Sometimes that means passing on work, but I'd rather maintain some semblance of balance in our family life. It does help that two of my three are pretty self sufficient. I don't know if I could be as organized if all three were little bitties!
What non-crafty hobbies do you enjoy? — Michelle
I am a voracious reader. At any given time, I'm reading two or three books and a stack of magazines. I love photography (that's not crafty, is it?).
What is your favorite time of year? The colors that I see you using often suggest spring or summer but I was curious to know if your littlest one inspires that, if it's the time of the year or maybe a little bit of both. — Heather
Fall and spring are my favorite seasons, probably because I grew up in a part of the country that didn't really have either.
If you had a really schmancy new serger you were intimidated to sew on, how would you get your feet wet and dive in? What materials would you use to educate yourself? I already have Sew U and the BabyLock video, but I'm still scared to death. Broke the needles the second time trying it, so maybe that is why, but I need to get over my hump. Suggestions? — Amy
My mother once told me a serger was "too much machine" for me. No lie. It was years before I realized that a serger could really enhance my sewing and give me more options for finishing garments — and more.
Still, I was terrified when my first serger showed up on my doorstep but I wasn't going to be like a friend of mine and let it sit in the box unused for almost two years. (I'm not kidding.) I put it on the dining room table, broke out the manual and The Complete Serger Handbook and just read and played for a couple of days, basically until I got the nerve to put real fabric to the test. I'm now on my second serger (I upgraded!) and can't imagine what I'd do without it.
Do you use a photo editor or are your pictures always so fabulous, and if so what? — hope
My pictures are just fabulous all by themselves. Just kidding! I strive to have my pictures be pretty close to print ready but I do use Adobe Photoshop CS2 for my photo editing. It helps that I shoot in Camera RAW, which gives me a little better control over some things. And sometimes I just like to use Photoshop to do fun things like vignettes or desaturation. I have been fortunate to have some wonderful people give me advice and constructive criticism, and took two photography classes last year to also build my skills. Just like anything else, it takes work but I think it's worth it.
What is your best photography hint? — hope
I have two: 1. Read your camera's manual. 2. Practice, practice, practice!
What is your favorite thing to sew/craft for your daughter? — Tracy
Anything she will actually wear when I'm done. She's getting very opinionated of late.
How would you feel if your daughter ever says, "Mom I don't want any more handmade clothing"? — Rachel
Sad, for sure. But I'm optimistic that won't happen. Her brothers are 17 and 15 and still ask me to sew for them.
How do you decide what to make next…do you have a list of future projects or does something inspire you for your next project or? — Tara
I have more projects in mind than time in which to sew them. I typically buy fabric with a specific project in mind, so when I'm in the mood to sew with this or that fabric, I usually know what it's going to be. I have a pile of corduroy fabric in my closet that I never managed to sew last year. I just ran out of time! I told Honey that means I won't have to buy any this year. (Yeah, he doesn't believe it, either.)
What has been your biggest sewing challenge, and do you feel like you've overcome it? — Lauren
Zippers have been incredibly intimidating to me but I think I've finally gotten 'em down. I'm so excited at the possibilities!
Do you have spurts where you do a lot of something? Like do you sew a lot of blue for a while, or a print, and then the novelty wears off and you try something different? — LadySnow
I actually try to not make the same thing or work with the same fabric more than three or four times. After that, I feel like I'm on an assembly line and it becomes work instead of fun. As far as crafts, in general, go … well, there's the reason this blog is called "Confessions of a Craft Addict." I have a tendency to go full tilt at something for a year or two, then drop it completely and move on to the next thing. I have promised my husband this will not happen with sewing.
How did you learn to do all of these wonderful crafts? — Chandra
Just diving in and hoping for the best in many instances. Sometimes, not knowing what you're doing helps you avoid making some of those mistakes beginners make. Other times … yeah, not so great. I read a lot and watch a lot of craft shows, too.
What is your preferred "pick-me-up" food or drink? From what I've read in your blog, it seems you have LOTS to keep you busy and need something to keep the energy going! — Sarah
I have a ridiculous addiction to light Coffee Frappuccinos at Starbucks. It's crazy and expensive, but I can't give them up. I only let myself have one a day. The rest of the time, I just drink water. Lots and lots of water.
How much fabric do you hide from your DH? lol — Kim
Really, not that much. We each have our hobbies and enjoy them. As long as I'm enjoying sewing and continue to work through my stash, I think he's OK with it.
I would love to know what/who inspires your work? — Melissa
I find that little 3-foot-tall, curly headed baby of mine to be quite the inspiration. I want her to look back and be proud of having a crafty mom. My mom has been a huge influence on me and I hope that a little bit of her lives on in what I do.
What are you aspirations for ten years from now? — Tonya
Happily married with two kids out of college (and hopefully through grad school) and not embarrassing my teen-aged daughter. Maybe writing craft or sewing books, or for a magazine in those areas.
Have you recently thrown away a craft project because you weren't happy with how it turned out? — Stacey
There's a back corner of my craft closet where I stash the projects that just don't cut it for one reason or another. The most recent addition is a failed dress made with dupioni silk. I couldn't bear to toss it in the scrap bag and hope to eventually find another project for the fabric.
When and how did you learn to sew? Do you have any tips for people just beginning to learn? — Esther
I would love to know how long you've been sewing and how you have learned your craft… from your mom, school or books etc. — Libby
I learned a lot from my late mother. She was amazing; she sewed knits back in the '70s — without a serger! I also took home ec when I was in the eighth grade. But I think I've probably learned the most since getting back into the hobby after my daughter was born. Books, magazines, blogs, tutorials, friends — they've all been amazing resources for improving my skills
I think the best advice I can give is to sew as much as you can, and not be afraid to make mistakes. Everyone makes mistakes and you can learn a lot from them. Sometimes, they're painful. (Ruining $30 of dupioni silk, for example.) But you have a good cry (or a good cuss!) and move on.
Have you ever taught anyone to sew? If yes, what do you start out by doing? — Alison
My older son learned to sew by osmosis. I came home one day and he was sewing. Now, a student in one of my recent classes I did teach how to sew, and it was so incredible. She made a skirt and was so proud of it! I think it helped that we were doing a specific project. Instead of just telling her what the steps were, I demonstrated something and then let her go. It wasn't perfect, but it gave her the confidence she needed to sew more.
I think it's harder to teach someone you're closer to; I know that was the case with my mother. She couldn't stand to see me make a mistake and would jump in and fix things. It was years and years before I had the chance to actually learn from my own mistakes! I think pillows and pillowcases are a great way to start. So are lounge pants/PJ bottoms.
Your photography is so wonderful, I'd love to know what you do to your photos or how you set up the lighting to get such crisp and clear photos? — Melissa
I shoot nearly always with available light. I know where the light is in my house and when it's best for taking pictures, so I try to take advantage of that. I have a gray card so I can do a custom white balance, which really helps keep colors true. I'm also a huge fan of the book Understanding Exposure.
How do you pick the fabrics you choose? I mean, are they made by the same designer? Do you coordinate the fabrics right there in the store or do you shop around? — Kathy
What inspires your fabric choices and color combos – they're always so festive w/out being obnoxious! — Kate
I am such a fabric junkie! I love all the new, shiny, pretty, and have been known to go to the fabric store just to relax. (Isn't that crazy?) Choosing fabrics is a very deliberate process for me. I try not to buy something without having an idea of what I'm going to make with it. That actually helps me visualize it and determine what other fabrics I need. Sometimes I'll buy two or three coordinates from the same line, which makes it pretty easy to put them together since they were made to work together. Other times. I'll wander around until I see what works. I usually stake out a cutting table in the quilt shop and pile my bolts on it, then flip around the yardage to see how everything looks.
Where'd you and Honey meet? Did I miss that somewhere? — Katie
We actually met at work. He was the new business reporter and I was the features editor. We ended up working together at two different newspapers for about three years. We've been together now for more than 13 years and his kisses still make me weak in the knees.
What is your favorite thing to sew? Clothes, home stuff, etc…and why? — Lisa
Clothes and purses, for sure. I love making something that can be used over and over again.
What is the next craft you hope to accomplish? — Jessica
I have been promising the boys for a year now that we're going to do screenprinting. I have all the materials, I just need to make the time.
I'd like to know what inspired you to take your sewing to the next level. Did it start out as just a hobby, and then turn into a business? Or did you always have lofty goals? — Laura
I used to play with my Fashion Plates back in the '70s and daydream about being a designer. LOL! When I picked up sewing again, I really just wanted to sew for my daughter. I only started sewing for friends as a favor, basically. Really, I don't do much sewing for business. I think it looks like I do more than I do! My priority right now is my family, so I try to keep the "work sewing" at a level that allows me to maintain that focus.
How long have you been sewing garments? What is your favorite fabric to use? — Heidi
I think I made my first garment — a top — for home ec in eighth grade. It was hideous and I had to wear it to school as part of my grade.
I love 100 percent cotton fabric, whether it's knit or woven.
How has sewing and doing crafts changed your life? How do they enrich your life? — Nikki
I find it incredibly rewarding to make something, whether it's clothes or a gift scrapbook or a tutu or a ball of felted wool. It's also incredibly grounding. A friend of mine refers to sewing as her therapy, and I know exactly what she means. I just feel more focused and centered when I'm crafting, and I really start to feel a bit edgy when I can't for a few days.
Can you make me a Yoshi costume for Halloween?? My son is obsessed, and hey, a challenge for you too, eh? — Shelley
Shelley, I love you but no. I'm sorry!
Did you ever sew Barbie clothes as a child/teen? Did you ever craft soft dolls as a child/teen? Now, if you said yes, to either question, do you still have them stashed in some memory box or out on display to encourage yourself with how far you've come as a sewing mommy? — Laura
You know, I really don't recall making any doll clothes when I was younger. Although I did have this knitting machine that made sweater tubes and I'm pretty sure I stuck a tube dress or two on a Barbie.
How much time do you spend each day on your craftiness? — Tanya
My goal is to spend at least two hours a day. Some days it's more, some days it's less. But on average, I'm right there.
About the blog: Confessions of a Craft Addict is proud to be powered by WordPress. The design of this blog is built on the WordPress theme "PopArt." Graphics are from the French Attic blog and scrapbook kit by Shabby Miss Jenn Designs.