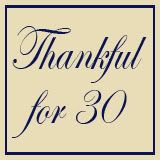 Thankful for 30.
That's my sort of unofficial theme for November. For the next 30 days, I'm going to focus on the positive. I really try to do that anyway but I think it's something I really need to make a priority right now when I'm overwhelmed by all the "musts" and "needs" of life in general and the holidays in particular.
For the next 30 days — the entire month of November — I'm going to write down at least one thing for which I am thankful each day. If I have a blog entry that day, I'll include my thankful thing in it. Otherwise, I'll Twitter it or write it on a Post-it note or jot it on the back of a piece of junk mail. However I do it, I'm going to put it in writing so I can commit to my gratitude.
I hope you'll play along, too. I'm trying my first little Mister Linky sign up and I've got this little graphic you can swipe, too, for posting on your blog or web site. And I really hope you do, because I'm going to feel really silly to have an empty Mister Linky. 😉
1. I am thankful for jeans with Spandex because they still fit me even after hoovering most of the bunny's trick-or-treat haul.